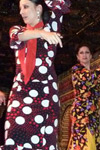 Flamenco Show Torres Bermejas
Price from $ 56.40
Flamenco Show at Torres Bermejas in Madrid is a real traditional Flamenco show with "Alhambra, Granada" style decoration. Show only or show and dinner can be booked here.

The show at Torres Bermejas begins with the traditional flamenco scene, then continue with a series of choreography pieces of different styles of flamenco, like a soleá to an alegría, a siguiriya to a martinet - all interpreted by an artistic group made up with around 20 artists.

You can book the following options:

Show and one drink:
Flamenco show and one drink.

Show with dinner:
Flamenco show with Tasting dinner, see menu example here:
Glass of sherry Jerez upon arrival. Castilian Soup or Andalusian Gazpacho. Spanish Omelette and various Valencian Paella, Veal from La Rioja and Mere from Alicante/ Custard or Caramel Custard. Red wine or Sangria and Mineral Water/ Coffee and Cava (spanish champagne).
Starts at 08:00PM

Important information:
- Duration: 2½-3 hour.
- The ticket is ONLY valid on the booked day.
- Please arrive 15 minutes before show or dinner.
- Flamenco Show at Torres Bermejas starts and ends at Torres Bermejas in Madrid.
Fantastic
5.0
Result from 1 customer reviews
Flamenco dance show
The show was good, i would have liked to know the interpretation of the different dances
Flamenco Show Torres Bermejas Info
Flamenco Show Torres Bermejas
Torres Bermejes
Calle de Mesonero Romanos 11
28013 Madrid, Spain
Info
Flamenco Show Torres Bermejas
Daily. Show & Drink 21:00 or Show and Dinner at 20:00
Directions
Directions
Metro Callao Station / Gran Via Station.



View map