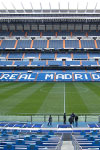 Bernabeu Stadium
Price from $ 32.10
Real Madrid's home stadium; "Estadio Santiago Bernabéu" is really quite impressive with room for more than 80.000 spectators. Book your tickets for this self-guided tour of the Santiago Bernabéu stadium right here!

This full self-guided tour of Real Madrid's stadium Santiago Bernabéu is the best way to see this mighty arena. You will have the opportunity to admire this enormous stadium without the limits imposed during a match, and you will gain access to areas that people can usually only imagine!

The Stadium is waiting for you with all of its myths;

* Enjoy a panoramic view of the stadium
* See the trophy room
* See the players' tunnel and the benches
* See the dressing rooms
* See the press rooms
* And of course the tour includes a visit to the Bernabéu MegaStore where you are sure to find the Real Madrid merchandise and souvenirs you are looking for!

Important information:
- Duration: We recommend allowing at least 1½ to 2 hours to complete the visit.
- The ticket is ONLY valid on the booked day.
- The tour is open Mon. to Sat. from 10 AM to 7 PM + Sun. & bank holiday from 10:30 AM to 6:30 PM. Closed on match days!
- Go directly to window 10, where the self-guided tour starts! Here you just show the e-ticket that we send by e-mail as soon as the booking is completed online!
- There are children tickets for those between the ages of 5-14.
- Children under 5 may enter free of charge.
- Audioguide can be rented (5€)
- The tour includes some walking, so please wear appropriate shoes.
- Bernabéu Stadium Tour starts and ends at Santiago Bernabéu Stadium.
Bernabeu Stadium Info
Bernabeu Stadium
Estadio Santiago Bernabéu
Avenida de Concha Espina 1, Madrid
Go to Tower B, where the tour starts!
Info
Bernabeu Stadium
Mon. to Sat. from 10 AM to 7 PM + Sun. & bank holidays from 10:30 AM to 6:30 PM. Closed on match days!
Directions
Directions
Metro Santiago Bernabéu Station



View map